I've been in Greenville, S.C., for the past two weeks – as you probably know, my sister had her baby on July 31 and I'm here to get to know him, help her and her husband out, and enjoy some quality time with family. I'm staying at my aunt's house – 2.5 miles away from my sister's, and I'm here without a car. My uncle and my sister have both graciously offered to let me borrow theirs, but I've only taken them up on it twice – once because it was late at night and once because I had groceries and a dog crate to cart over there. Otherwise I've been walking or running everywhere I go! And I absolutely love it. I try to do this at home as well, but I live more out in the suburbs than my aunt or my sister, so it's a bit harder.
So, that said, here's what I'm really enjoying about Greenville:
= The fact that everything is near "stuff." I ran downtown from my aunt's one day – 3 miles. I walked to the movie theater – 1 mile. There's an outdoor store about a mile from the house. Any fast food you could want in walking distance (unfortunately, I have to run past a Dunkin Donuts sometimes! Have thus far avoided that temptation.) The mall is in walking distance. The grocery store. PetsMart. Seriously, everything.
The irony: Everyone here is worried about me walking/running. "But it's such busy roads," they say. "But there are sidewalks," I say. They should see what I have to deal with at home …
= I know lots of people here. I have never lived here, but 2 of my cousins do, my aunt and my sister. And a few sorority sisters and other people I went to college with. Jeff's parents live near here, though they are "living" in DC right now. I haven't been able to meet up with people as much as I'd like, as I'm busy keeping up with the baby and keeping up with work. But this week I ran with Jess and her husband and their running group, and I had so much fun! I hope to meet up with Shannon and Mark while I'm here, too.
= I visited a unique coffee shop last weekend. It's called Coffee & Crema and it's in the Fresh Market Shopping Center across from the movie theater (in which I saw "The Ugly Truth") off of Laurens Road. It was unique in their marketing plan: They have a sign explaining why they want bloggers to talk about them. It reads:
We're trying to spread the word and need your help! We aren't The Man and don't have money on slick marketing campaigns but we do have great coffee. So that's what we'll pay with!
Write a post about Coffee & Crema on your blog, or review us on Yelp or another online review site, then just email the review/blog link to info@coffeeandcrema.com and we'll have a free drink waiting for you the next time you visit.
OK, so maaaaybe I partially mentioned them for a free cup of coffee (that I have to walk a mile each way to get! I am working for it!) but I also mentioned them because they are doing what all businesses should be doing: looking at local media as a way to spread the word/gain a reputation. As a small business owner, I know that advertising works. I've seen it happen. But I know how important word of mouth is as well. Props to them for thinking of a great way to pass on the information about their coffee shop.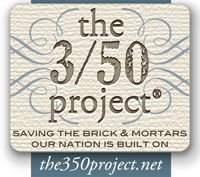 They also support the 3/50 project, which I just think is brilliant, and after reading about it at Coffee & Crema I went to the project's site and became a supporter. You should too!
As far as the coffee shop goes, it's got nice ambiance. Make sure you pay them a visit if you haven't already. I had a cafe' au lait with soy milk, and Chris got a banana/strawberry smoothie (one gripe: Wish he could have gotten a protein supplement, but they didn't have any.)
= I love, love, love Greenville's downtown. I still kinda think it beats Charlotte's downtown, although Charlotte is really making strides. It just feels so friendly and fun, yet lots to do. I love that I can run there from my aunt's, although the one time I did it I turned around and ran back because I knew the trip back would be all uphill!
= Speaking of hills, I both love them and hate them. Love them in that it's good training for running. Hate them because, well, they're hills!
= The mountains are close, downtown is close and fun, friends are close and fun, and I'm in love with my little baby nephew! Who can beat that?